Who is this article for?

Ideagen customers interested in joining Ideagen Community.

No specific knowledge is required.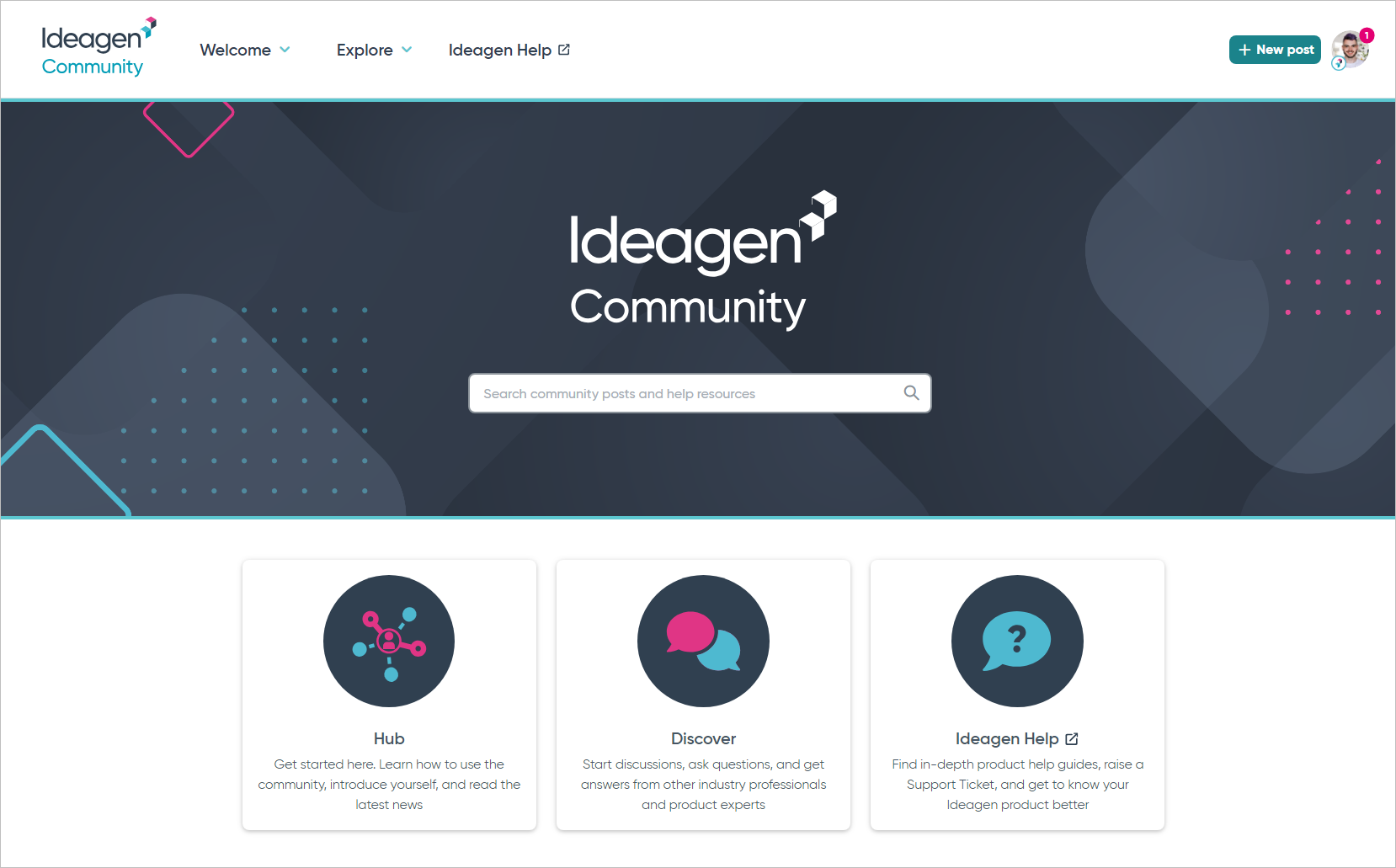 Ideagen Community is our brand-new vibrant platform designed to connect and collaborate with our valued customers and users. This help article provides an overview of Ideagen Community's mission, vision, and offerings, highlighting the benefits and opportunities available to you.
---
Our mission
At Ideagen Community, our mission is to create a thriving environment where our members can connect, learn, and innovate together. We aim to foster a sense of community and provide a platform for valuable interactions, knowledge sharing, and mutual support.
---
The vision for Ideagen Community
Our vision for Ideagen Community is to establish an active, engaged, and interesting user forum that enables our customers and users to feel a strong connection to Ideagen. We strive to create an inclusive space that fosters collaboration, inspires thought leadership, and facilitates positive engagement.
---
What does Ideagen Community offer?
Connection and networking
Ideagen Community serves as a hub for connecting with fellow members, Ideagen experts, and industry peers. Engage in discussions, share experiences, and build valuable connections that can help you succeed in your endeavours.
Learning and knowledge sharing
Expand your knowledge and expertise through access to a wealth of resources, including guides, best practises, and instructional content. Learn from the experiences of others, gain insights into industry trends, and contribute your own expertise to help others.
Collaboration and innovation
Ideagen Community promotes collaboration and innovation by providing opportunities for product ideation and feedback. Share your ideas, suggestions, and feedback to shape the future direction of Ideagen's products and services. Engage in discussions and collaborative initiatives to drive innovation within your organisation and the broader community.
Support and problem-solving
Seek assistance, advice, and solutions to challenges you may encounter while using Ideagen's products. Collaborate with peers, share best practises, and find answers to your questions within the community. Our knowledgeable members and experts are here to support you in your journey.
---
What products are available?
As of the writing of this article, Ideagen Community currently has five products available that can be discussed with more in scope in the coming months. These are as follows:
Ideagen EHS (formerly known as ProcessMAP)
Ideagen Huddle
Ideagen PleaseReview
Ideagen Quality Management (formerly known as Q-Pulse)
Ideagen WorkRite
---
Become a member
Ideagen Community is a dynamic platform designed to empower connections, foster collaboration, and facilitate knowledge sharing. Join us in this vibrant community, where you can connect with like-minded individuals, access valuable resources, contribute to innovation, and receive support on your Ideagen journey. Together, let's create a thriving community where we can learn, grow, and succeed together.